UPDATE 2 May 2022: We have received 18 applications from Digital Innovations Hubs but we thought to extend our deadline until 16 May 2022!
You have time until 16 May to express your interest to become a member of the Change2Twin network and support companies to get ready for digital twins. On 24 and 25 May, an online training event will be organised enabling the DIHs to get a certification. It will provide some knowledge and skills among others about Digital Twins in Manufacturing, the Assessment tools developed under the project, the Change2Twin marketplace or the upcoming Open Calls (the next one will be launched on 30 June). Send you expression of interest as soon as possible to DIH(at)change2twin.eu"

Gladys Gallot, Change2Twin's DIH Manager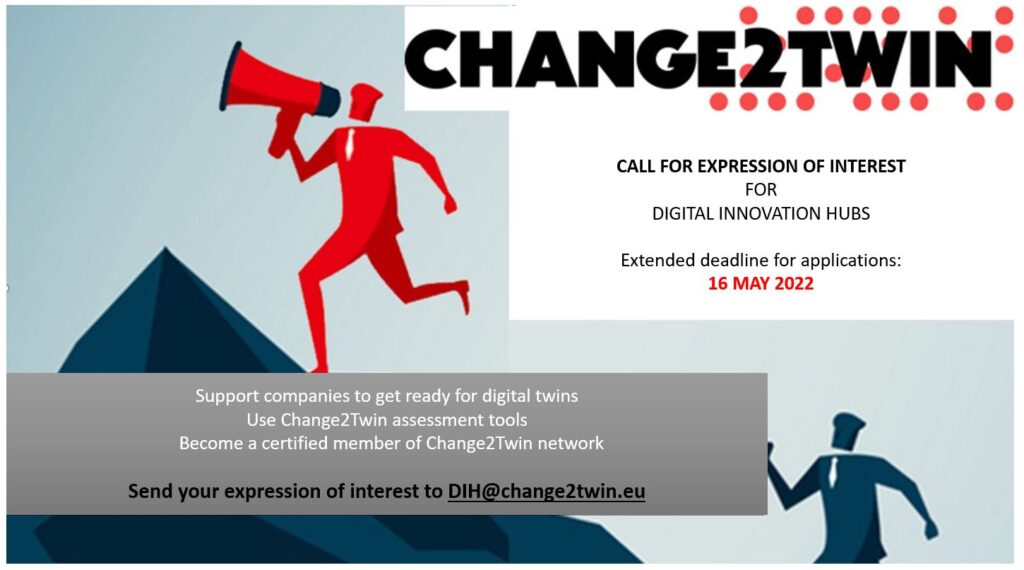 Change2Twin is growing and we are looking for new Digital Innovation Hubs to join our network! Currently we are working with 38 DIHs from all over Europe but for the upcoming Assessment Voucher open call we have opened our doors to new candidates. This is the last opening that we will have in Change2Twin, so don´t miss this unique opportunity and apply by 15 April 2022 16 MAY 2022!
Scope of cooperation:
Digital Innovation Hubs are important partners to Change2Twin in the assessment procedure. They act as consultants to local SMEs which seek to get assessment of their readines for digital twinning. The DIHs provide this assessment according to Change2Twin method, create an individual twinning recipe using the Change2Twin Marketplace and thus help the company on its way to create and deploy a digital twin.
-> Read more about Change2Twin assessment method
Timeline:
15 April 2022: deadline for DIHS to apply to join Change2Twin network
May 2022: certificaton training for DIH to get familiar with Change2Twin assessment method
June – September 2022: Assessment Voucher call open for submission for SMEs – time for certified DIHs to contact local SMEs, offer them an assessment and prepare application according to the guide for applicants
October 2022: evaluation of applications by Change2Twin and announcement of winners (beneficiaries)
Autumn-Winter 2022: beneficiaries carry out the assessment consultations with DIHs and provide report to Change2Twin
Requirements for DIH to join Change2Twin:
Apply by sending us an expression of interest by 16 May 2022 per email: DIH@change2twin.eu
You have to be enrolled in the European DIH catalogue (enrollment anytime possible)
Your main focus area is manufacturing
---