The beneficiaries of the 2nd and finaly Deployment Voucher call have been selected in Summer 2023 and their projects were launched in September 2023 at Kick off meeting in Vienna. Here you can
Tekkan Plastik from Turkey
We are glad to introduce the Change2Twin 2nd Deployment Voucher beneficiary – Tekkan Plastik company with their winning project – InjecTwin: Digital Twin of Injection Molding. 👏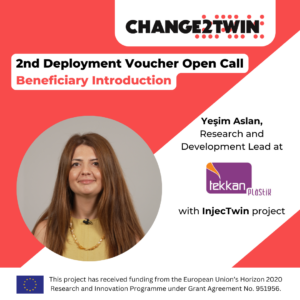 Tekkan Platik was founded in 1989 and is one of the leading companies in Turkey in the field of plastic injection, plastic part production and assembly for household appliances and automotive sector. Tekkan also has available technology for design, production, and assembly of molds. Because of the quality issues arising during production cycles they decided to address this challenge via real-time monitoring and prediction – digital twins are key enabling technologies where already monitored KPIs can be quantified and improved further.
---
Fieldmade AS from Norway
Let's meet another Change2Twin 2nd Deployent Voucher beneficiary – Fiedmade AS with their project – NomaDT: Deployed Digital Manufacturing.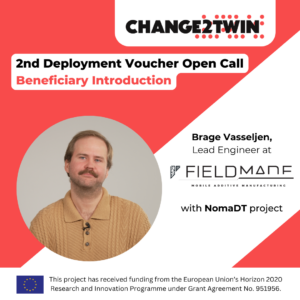 Fieldmade develops mobile additive manufacturing micro factories. Their goal is to produce spare parts on-demand at the point of need. Digitizing their mobile factories will give them better control of the environment and process stability, increase ability to perform predictive maintenance and provide remote assistance.
---
Focchi Group from Italy
Focchi is a family business founded in 1914 specialised in engineering & construction project management, from design to manufacturing and on-site installation. Focchi engineers bespoke architectural high technological building envelopes for unique buildings. The company combines craft and attention to detail, despite the industrial nature of the company that nowadays is one of the current major players in the façade market.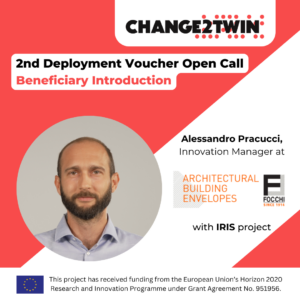 They decided to apply for the 2nd Deployment Voucher Open Call of Change2Twin with their (winning!) project – IRIS: LogistIc Digital twin foR an optimised and Safe warehouse – because of three reasons:
reducing warehouse indirect costs
Improving manufacturing plant organisation and connection with the warehouse
Improving warehouse safety.
---
Indaero Grupo Emergy
INDAERO GRUPO EMERGY S.L. is a medium-sized company dedicated to aeronautics and space manufacturing. They apply advanced technologies for the development of parts, assemblies, equipment and ground elements, providing solutions in design, safety and performance. 🚀 Its expertise involves different processes such as machining, thermoforming, engraving, thermal printing, assembly, painting or textile confection.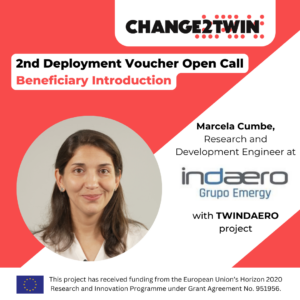 Thanks to being the beneficiary of the Change2Twin 2nd Deployment Voucher Open Call they believe digitization will significantly improve the production process and increase operational efficiency. In addition, the digital twin is expected to improve the quality of their products and reduce lead times, which can improve customer satisfaction and increase sales volume. In summary, the implementation of the digital twin is in line with the strategic objectives of improving efficiency, quality and customer satisfaction, and is expected to have a positive impact on KPIs.
Project's name – TWINDAERO: Machine Learning for Optimising Industrial Processes
---
Labormak from Italy
Labormak S.r.l, located in Northern Italy, is a company that deals with electro-chemical treatment of aluminium foils. Their project – TWIN4LOGS: Digital TWIN for food and beverage intraLOGistics Solutions – became one of the winning ones in Change2Twin 2nd Deployment Voucher Open Call.
The decision to implement the digital twin was based on an objective to improve by 15% the possibility to close deals with customers providing a better understanding of the proposed plant and to improve efficiency by saving 40% of commissioning time. The goal is vested as one of the core businesses of Labormak is the realisation of intralogistics automatic lines to handle different types of parcel especially dedicated to customers acting as mass distribution centres of food and beverage products.
---
Mirelite Mirsa from Hungary
MIRELITE MIRSA Zrt. is engaged in the production of various quick-frozen vegetables, fruits, and pasta. Although the product manufacturing and packaging is done with modern technologies and machines, they decided to apply in Change2Twin 2nd Deployment Voucher Open Call. They realise that digitalisation and use of digital twins for dynamic synchronising the heating and chilling with the mass flow will optimise resource efficiency, reduce energy and water consumption, reduce cost and waste of food, improve food safety and quality. 👌
Congratulations on your winning project – VBDT: Vegetable Blancher Digital Twin!
---
RO-RA Aviation Systems from Austria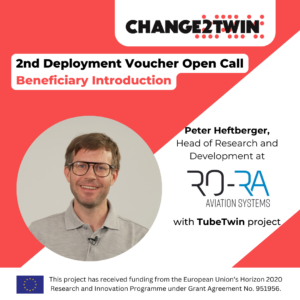 RO-RA Aviation Systems GmbH is an aviation technology company that develops and manufactures custom solutions for their customers. RO-RA products include rods, high-precision components and mechanisms found in commercial aircrafts, business jets, helicopters and their engines. Manufacturing is a key aspect of RO-RAs business.
And that is why digitalization is of great interest to RO-RA, as it has the potential to improve business operations, increase profitability, and reduce delivery time. The implementation of a digital twin can optimise their manufacturing processes and provide real-time monitoring and data analysis, aiding in decision-making and improving KPIs such as first-time yield and delivery time. By leveraging digital technologies, RO-RA can stay competitive in the market, meet the growing demand for customised products, and maintain high levels of quality and efficiency.
Welcome on board with other Change2Twin 2nd Deployment Voucher Open Call beneficiaries with your winning project – TubeTwin: Efficient and agile tube manufacturing for Aerospace using a Digital Twin approach.
---
Sangalli from Italy
Let us introduce to you another Change2Twin Deployment Voucher Open Call beneficiary – Sangalli Spa with their winning project: PLP:Paving Lean Process.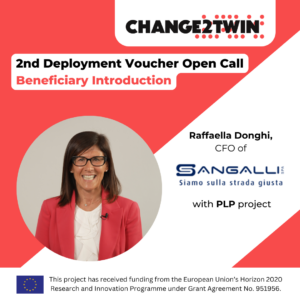 This Italian company active in the road and building manufacturing business is particularly well known in asphalt paving of highways and expressways. Moreover, during the last 10 years it increased a lot in renovation of big hydraulic systems.
While realising their project under Change2Twin programme, they want to start developing a cognitive digital twin (CDT) approach by implementing advanced modelling and machine learning techniques from equipment acquired data. In this way, the CDT will improve all their operational KPIs analysis (resources optimization, cost saving, downtime reduction) and will enable a smarter quotation phase.
---
Total Plastic Solution from Ireland
Total Plastic Solution Ltd is leaping into the future with the SFDI – MaHaSy Shop Floor Data Integration project as a proud beneficiary of the Change2Twin program! 🎉
TPS, a family-owned company, shipped over 30 million parts last year. With over two decades of expertise, they're a leading custom plastic injection moulding company specialising in high-precision, custom-moulded components for OEM and Tier 1 customers.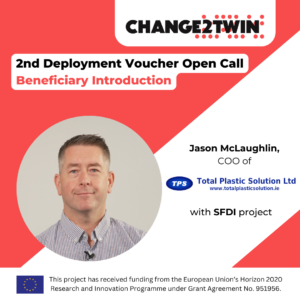 What's their secret to success? Their production management system, MaHaSy, ensures on-time delivery, even with short lead times.
Now, they're looking to the future by implementing a digital twin of their production equipment. This cutting-edge technology will streamline their production planning, scheduling, and maintenance operations, boosting efficiency and innovation.
---
Trygons from Greece
TRYGONS, a composite parts manufacturer, aims to reduce unforeseen costs in the production process. Among others that is why they decided to apply in Change2Twin 2nd Deployment Voucher Open Cal; and became one of its beneficiaries. 👏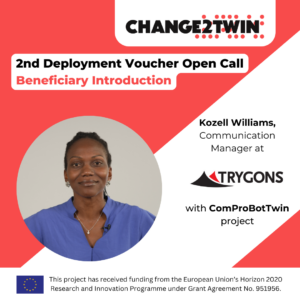 The creation of a digital twin for their robot cell can simulate and optimise the manufacturing process with multiple parameters involved, increasing stability, reducing errors, and controlling process parameters. The digital twin can facilitate the introduction of new products into the manufacturing process. They recognize the importance of digitalization for process optimization, reducing costs, and enhancing control. Their assumptions were widely described in the project called ComProBotTwin – Composites Parts Production Robot Cell Digital Twin.
---
Orion Additive Manufacturing from Germany
Welcome to Orion Additive Manufacturing GmbH, with their project HP3BDT: Higher Performance Polymer Printed Bracket using Digital Twins, is a beneficiary of the Change2Twin 2nd Deployment Voucher Open Call.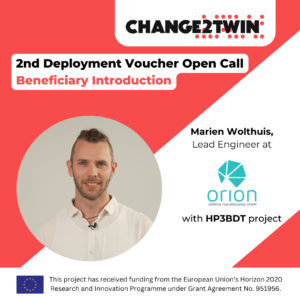 Orion provides additive manufacturing, delivering PEEK parts with unmatched mechanical properties compared to injection moulding. Their focus on aerospace and medical applications is pushing boundaries. And there's more to come, with larger systems in development. Their vision? To lead the market in high-performance polymer aerospace components and medical implants. To achieve this, Orion wants to use a data-driven approach and Digital Twins, as this technology helps lower energy use and waste production.
---
CEAMSA
CEAMSA is embracing the future with its innovative project PECTINS 4.0!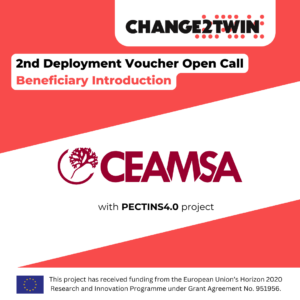 Meet CEAMSA, the specialist in designing and producing texturizers coming from natural raw materials. Their unwavering commitment to innovation led to the creation of the visionary project PECTINS4.0, a proud beneficiary of the Change2Twin 2nd Deployment Voucher Open Call. With PECTINS4.0, they're not just taking a step; they're leaping into digital transformation! This project aims to revolutionise their internal processes, focusing on the precision and efficiency of their operations. CEAMSA plans to optimise performance, reduce operational errors, and minimise reliance on raw materials by integrating digital technology into production. This bold step signifies their dedication to creating a more sustainable and efficient future, solidifying their position as industry pioneers.
---
ISOCHRONIC
Why do they need a digital twin?
Isochronic's product is a loading, unloading and sorting robot for sheet-metal laser cutting machines. It can continuously align its main axis with the flow of parts from the laser to different target locations.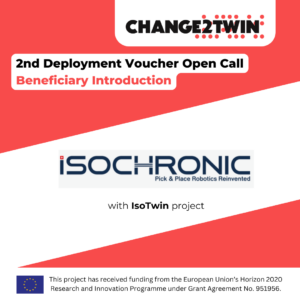 Thanks to it, they will configure their robot based on customer's requirements and give virtual demonstrations of its performance. This will heavily shorten the sales cycle. A second KPI is actually the number of parts sorted by the machine – optimising within the digital twin their sorting algorithm based on real production data will directly impact it. We are content to announce that the Isochronic project – IsoTwin: Isochronic Technical Win by Simulation – became one of Change2Twin 2nd Deployment Voucher beneficiaries.
---
Remoin Montajes from Spain
Remoin Montajes S.L., located in Asturias (Spain) is mainly dedicated to the design and construction of machinery, specially for the food and beverages sector. They develop integral projects from design to delivery at the client's facilities (turnkey's projects).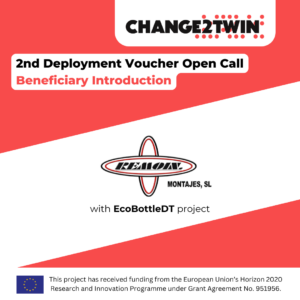 Why they applied (and became a beneficiary!) in Change2Twin 2nd Deployment Voucher Open Call?
Under their winning project – EcoBottleDT: Digital Twin of system for the circular economy of bottles used in beverage industry – they would like to implement the DT technology to improve the functioning of their machines and develop new ones to satisfy customers and market demands. This connects with their commitment to continuous R&D and sustainability, as well as with customer satisfaction by giving their clients a machine complying with their demands and the reduction of time of operators.
---
Stotex from Serbia
Meet Stotex doo, Serbian textile manufacturing company that became a Change2Twin 2nd Deployment Voucher Open Call beneficiary with their project called EcoTextTwin: Digital twin and AI-based monitoring of eco-friendliness in textile production.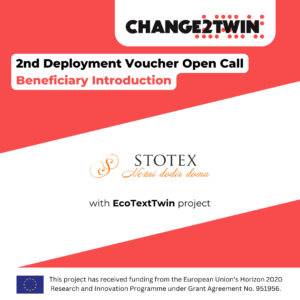 Implementing a digital twin in their case is reasoned by gaining a resilient zero waste and zero defect production process. This assumption goes along with their company's mission which is becoming a leading manufacturing and trading socially responsible company.