The second Deployment Voucher Open Call ended on 30 April 2023.
---
!!!CLOSED!!! 2nd Deployment Voucher Open Call – 2023
---
We are looking for manufacturing SMEs and midcaps (i.e. companies with up to 3.000 employees) that want to improve their competitiveness by implementing Digital Twinning Technology. Our support programme, encapsulating funding & technical mentorship, will help you in overcoming that challenge by developing and implementing digital twin technology.
Up to 16 selected applicants will receive a Deployment Voucher of up to 90.000 € to deploy a digital twin in their manufacturing business.
Companies applying to this open call will ideally have already reached a digitisation level of 3, which means that they preferably already use dashboards and data from important business processes, such as production, are made available by the use of sensors.
The minimum level of digitization for companies that apply to the open call is 2, in which digital systems in the organisation are largely connected to each other and exchange data to provide business applications and software with relevant information.
For more information on digitization levels please read the FAQ.
When can you apply?
The call will open on the 16th of January 2023 at 09:00 CET and will close on the 30th of April, 2023 at 17:00 CEST. Join our community and follow us on LinkedIn for updates on these dates.
What's in it for SMEs?
You will take part in an 11-month support programme to adopt digital twinning technology to improve the competitiveness of your company. You will receive:
Up to 90 000 Euro as a lump sum to cover the costs to deploy and implement technology and systems applicable to digital twins for manufacturing.
Technical mentorship to support the Digital Twin deployment in each phase of its implementation from user requirements to design specifications.
Once you have confirmed your SME/mid-cap status and verified that you are in an eligible country, you can proceed by:
Reading the Guide for Applicants (Document explaining the application and evaluation procedures).
Having a look at the Frequently Asked Questions in order to see if there are answers to the doubts you may have.
Clicking the apply button and preparing your application.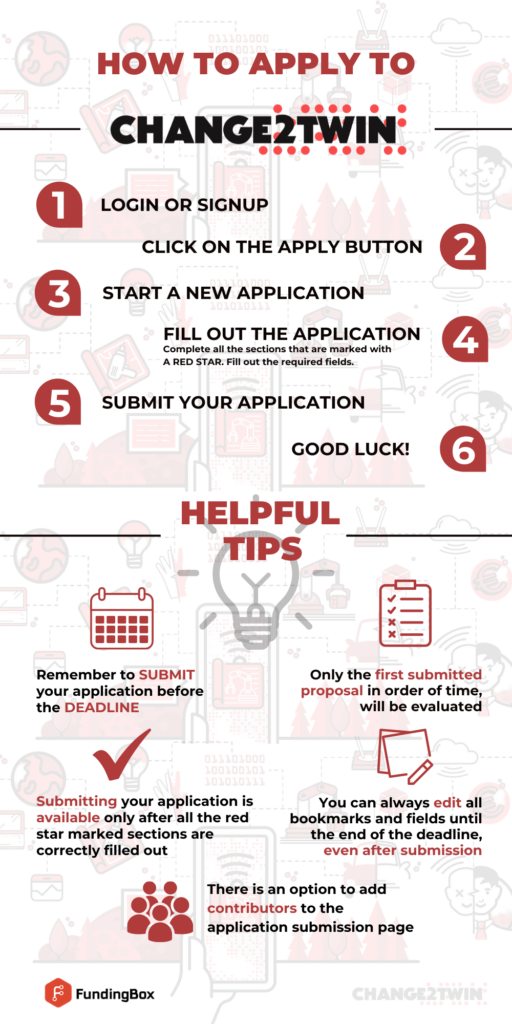 Still have questions?
We invite you to read the Guide for Applicants and the FAQ before applying to understand fully this call and make the most out of your application.
Join us at the Helpdesk space to ask your questions and solve your doubts!