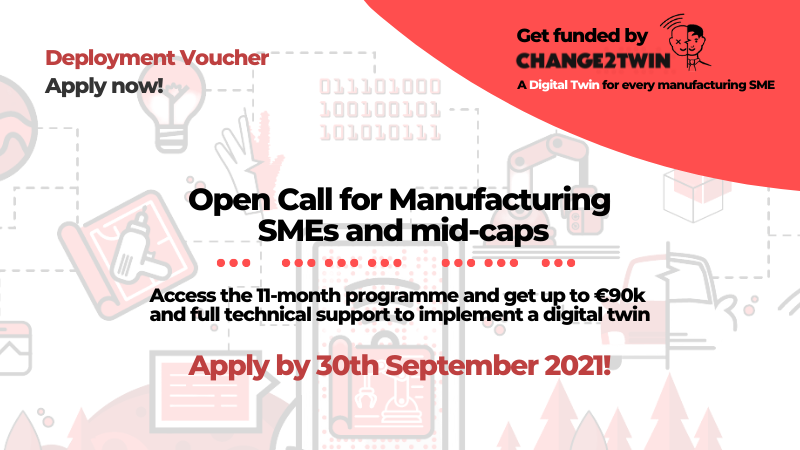 The Deployment Voucher open call will select up to 11 SMEs and mid-caps. They will receive a lump sum of up to €90 000 to deploy and implement technology and systems applicable to digital twins for manufacturing, with full technical support under an 11-month programme.
Change2Twin is a project funded by the European Union which supports manufacturing SMEs in their digitalization processes by providing Digital Twin solutions.
The concept of Digital Twin is one of the big game-changers in manufacturing and allows companies to significantly increase their global competitiveness.
30 June 2021 – The H2020 project Change2Twin launches its second Open Call to support European manufacturing companies in their digitisation using digital twin technology. SMEs and mid-caps looking to implement a Digital Twin can now apply for the Deployment Voucher funding .
The call opens on 30 June 2021 and closes on 30 September 2021 (17:00 CEST).
Change2Twin offers funding to SMEs and mid-caps interested in developing and implementing technology and systems applicable to digital twins. Up to 11 manufacturing SMEs and midcaps will be selected to join a 11-month programme to deploy the digital twin solution.
The Deployment Voucher is worth up to 90 000 Euro (lump sum) to cover the costs to deploy and implement technology and systems applicable to digital twins for manufacturing. Moreover, the selected proposals will be supported by technical mentoring throughout the course of implementation of the digital twin.
The SMEs and mid-caps who have previously received an Assessment Voucher to evaluate their digitalisation potential are encouraged to apply for the next stage, which will allow them to put into practice one of the recipes received by the DIHs.
The Deployment Voucher support programme is divided in two stages:
Stage 1 – Inception. During 2 months, technical partners from project consortium will help SMEs to define the user requirements of their application experiment. Additionally, the framework of the experiment will be communicated and agreed with the company.
Stage 2 – Experiment. During 9 months, the SME will receive the necessary support to focus on the implementation of the individual application experiment.
Who can apply?
The call is aimed at manufacturing SMEs and mid-caps that are in search of finding solutions to digitise their processes and are established in the EU s. However, the ideal use case should be the use of digital twin technology for one or several of the following purposes:
Virtual Design: Model-based system engineering, including analysis and design, ensuring that requirements are met and providing for seamless integration, test, verification and validation.
Customer Engagement: Interactive display of the system and its capabilities, for customers to understand how it meets their needs and how they will use it.
Commissioning: Checking the on-site implementation of a system against its design as captured in the digital twin to detect commissioning faults or anomalies.
Feedback to Engineering: Capturing usage characteristics with the digital twin to inform engineering of needs to change designs, or for future designs, or of operational risks.
Monitoring: Monitoring of a system's operation by the digital twin that is then able to, e.g., detect anomalies, performance degradation, etc.
Optimization & Best Quality: Process control with the digital twin to optimize a systems operation for best performance and efficiency.
Scheduling: Organization of workflows based on actual data and insights provided by the digital twin.
Diagnosis: Investigation of the cause or nature of a fault condition, situation, or problem in the physical system by reasoning on live data within the digital twin.
Preventive Maintenance: Maintenance and service of a physical system that lessens the likelihood of failures based on the observed and inferred system state as visible in the digital twin.
Smart Logistics: Logistic processes that adapt to live data of needs and options as visible in the digital twin.
Smart Systems: Systems that adapt to their dynamic environment, state, or tasks and potentially learn how to do that best. The digital twin is then a core part of the system's control.
How to apply?
The eligible candidates, SMEs or mid-caps, can submit their applications through the FundingBox platform microsite created for this purpose by filling up an online application form between 30th June 2021 (9:00 CEST) until 30th September 2021 (17:00 CEST).
The applicants can access a dedicated Open Call Help Desk at FundingBox Spaces Platform, an easy Guide for Applicants and a Frequently Asked Questions document which will be constantly updated while the open call is running. Moreover, a supporting webinar will be organised in early September (exact date to be announced), to assist the interested SMEs and mid-caps in their quest to make the best out of their application. 
For those SME or midcaps established in an eligible country, the next steps to access the Change2Twin programme are:
If you have doubts, go to the Change2Twin Help Desk Community or contact opencalls@change2twin.eu. For your convenience, here is a simple tutorial how to submit a question to the Change2Twin Help Desk.
About Change2Twin
The European Commission's Horizon 2020 innovation framework under which Change2Twin was created has clearly identified that "The challenge is to accelerate the design, development and uptake of advanced digital technologies by European industry – especially SMEs –, notably in sectors where digital technologies are underexploited".
As an Innovation Action under the frame of the I4MS Coordination and Supporting Action from the EU, its general objectives align with the I4MS ones by ensuring that 100% of manufacturing companies in Europe have access to 100% of technologies needed to deploy a digital twin.
The Change2Twin project was launched in 2020 and will last 48 months, during which it will run four open calls, two Assessment Voucher calls and two Deployment Voucher ones. Open Calls are funding rounds in which entities can submit proposals in the hope of being selected to receive funds to get their technological ideas evaluated, deployed and/or tested.