A digital twin is a digital replica of an artefact, process or service that is so accurate that it can be used as basis for taking decisions. The digital replica and physical world are often connected by streams of data. In Change2Twin we address digital twins of artefacts, processes and services associated with manufacturing.
Two basic requirements
The first basic premise of the digital twin definition in Change2Twin is that it is fit for purpose (so accurate that it can be the basis for decisions). The other basic premise is that the technology, data, models, etc. can be re-used for not just one, but multiple purposes. This requires interoperable parts and digital platforms that can work together with other solutions and are re-usable across different parts of the product life cycle.
Another aspect of fit for purpose is in the amount of detail for the digital twin. The twin doesn't need to always cover all aspects or be fully physically correct to serve its purpose. There can in fact be multiple twins working together to create this fit for purpose. One twin based on physics and domain models, the other based on data, statistics or Machine Learning. The purpose defines how much of the twin is needed in either physics or more data driven approaches. Physics modelling might be too resource (cpu/time) demanding to be feasible, AI enabled models can be dynamically determined via automated parameter tuning to create viable solutions for the twins.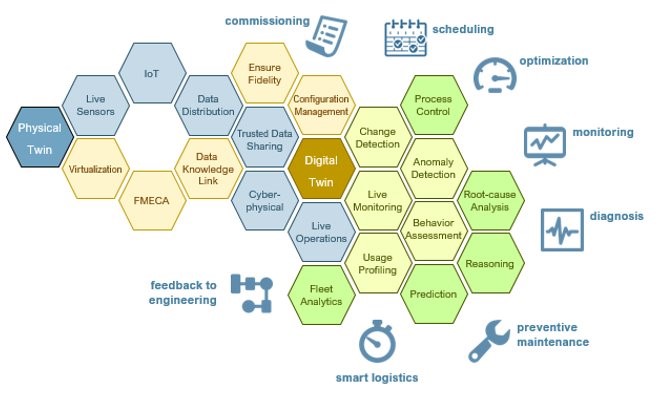 Watch the talks of our experts on digital twins:
Standards
To address the take up of digital transformations and digital innovations it will be paramount to use open, international and public available standards, like ISO 10303. This will also support the SME industry with services to adopt new technology to:
o increase interoperability of information technology, addressed by data exchange & sharing solutions
o common enterprise-wide views of information, addressed by data integration solutions
o obsolescence of information technology, addressed by data archiving solutions
o freedom from vendor lock-in, addressed by open data solution
Change2Twin will be based on, among others ISO 10303, for CAD, CAE/Simulations, PLM and sensor data (IoT) integrations,, in addition to data storage for AI/ML applications. Change2Twin will support SME's to bring their models and make them go live with sensor data.