Our partner project BOWI (Boosting Widening Digital Innovation Hubs) project is hosting a face2face event on interregional collaboration between Digital Innovation Hubs (DIHs) that will take place on 11 May 2023 in Brussels. All Change2Twin partner (E)DIHs are warmly welcome to participate. The participation is free of charge.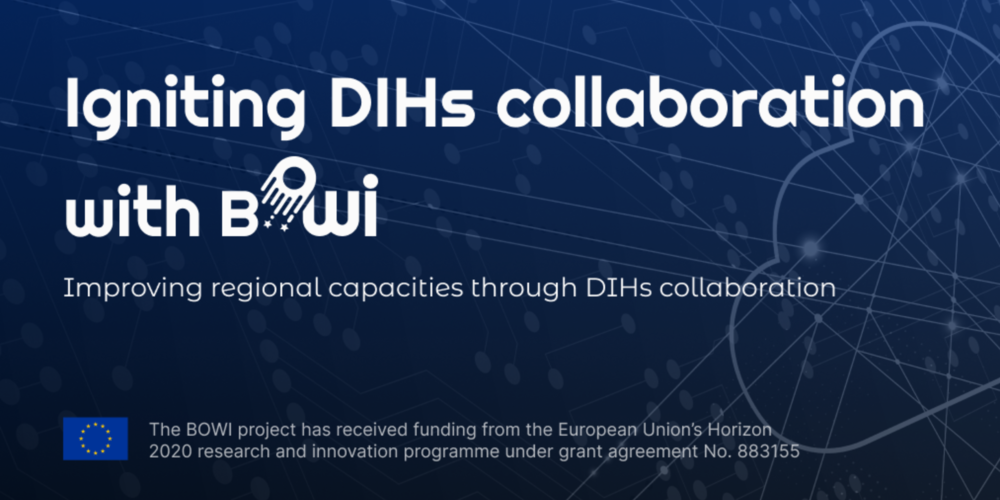 With speakers from the European Commission DG Connect, Digital Innovation Hubs and BOWI representatives, this event will showcase the successful collaboration between DIHs from different regions, together with the methodology and tools that BOWI created to foster this interregional collaboration.
As part of the Digitising European Industry Strategy, BOWI has been contributing to ensuring that any business in Europe has access to a Digital Innovation Hub and also receives support from other DIHs outside their region. The project has addressed the challenge that knowledge, expertise, and some of the technological capacities promoted under I4MS and SAE initiatives are not available for European industry at large.
The vision of the collaboration between DIHs in BOWI, similar to the one of the EDIHs, is to improve the competitiveness of the regions by more efficient and effective use of regional capacities. Therefore, BOWI explored the mechanisms that connect hubs from widening regions with other DIHs, by encouraging the creation of corridors or collaboration avenues that go beyond the ad-hoc collaboration.
The event will present the results of the project and showcase the tools and methodologies developed to foster interregional collaboration between DIHs.. Participants will hear firsthand information from the DIHs who participated in the programme, sharing their success stories, lessons learned, and tips to establish a fruitful and long-lasting collaboration with other DIHs.
The event will include a hands-on workshop where attendees can create their own recipe for interregional collaboration with other (E)DIHs. Opportunities to network will also be facilitated, allowing (E)DIHs to seek out potential collaborations and partnerships.
Contacts
FundingBox
Ola Sawicka Green
ola.sawicka.green(at)fundingbox.com