In preparation for the first open call, Change2Twin trained 38 Digital Innovation Hubs from 15 countries. The DIHs are key players in Change2Twin funding scheme, providing SMEs with a thorough analysis of their digitalization potential, including a complete recipe for the deployment of digital twin. Change2Twin will fund up to 25 such projects in the first open call.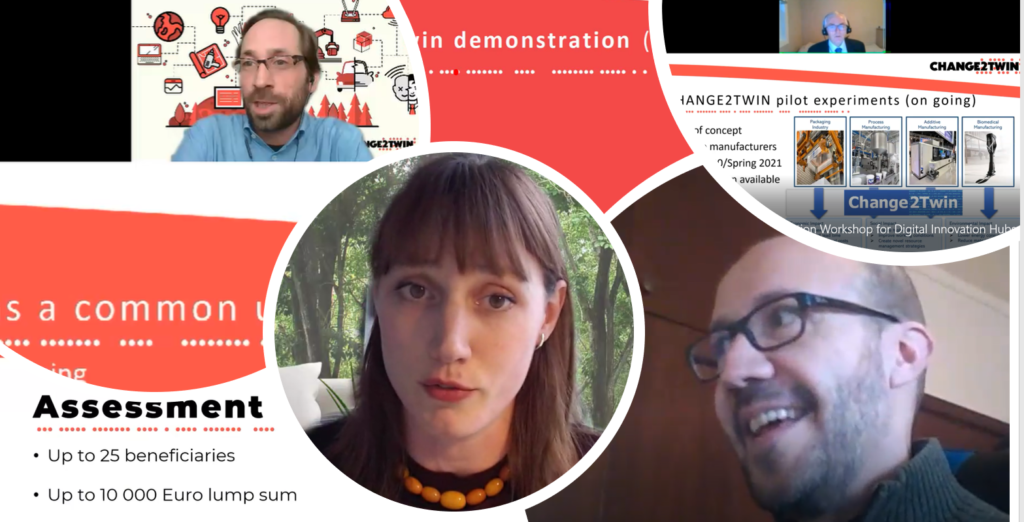 The interest from DIHs to join Change2Twin has been overwhelming. In the end, representatives of 38 DIHs attended the online certification training which took place on 13 and 14 January 2021. The two-days training provided DIHs with targeted information about Change2Twin goals and their role in the funding scheme, as well as a training to the use of the assessment tools developed by Change2Twin. In addition, experts from the consortium provided insights into the world of digital twins – two use cases, enabling technologies, technology barriers, the customer journey for companies and much more. Some of the presentations have been made publicly available on Change2Twin YouTube channel.
In this process, DIHs play a key role and act as main contact point for finding and encouraging local SMEs to apply for the Change2Twin Open Calls as well as identifying local technology providers and thus making digital twins available to local manufacturing SMEs. As part of the Assessment Open call, successfull SMEs will be provided with digital assessment services performed by the certified DIH of their choice among the Change2Twin Network. SMEs will get a detailed analysis of their digitalization potential, improvements achievable with digital twin technologies and a complete recipe for their deployment, containing the list of different technologies fitting the use case.
Companies interested in applying for Change2Twin Assessment voucher (worth up to 10.000 EUR) are encouraged to contact their local DIHs as soon as possible to prepare their funding proposal. The pool of certified DIHs for the current open call is now closed, however, DIHs interested to join Change2Twin network for the second round of open call (2022) can contact us anytime under: dih@change2twin.eu.
Selected video presentations from DIH training session:
Digital Twin demonstration by Kjell Bengtsson (Jotne) & Guido van Gageldonk (Unit040)
Digital Twin: a common understanding by Jeroen Broekhuijsen (TNO)
Seven steps to Digital Twin for SMEs by Michael Borth (TNO/ESI)
Change2Twin Marketplace by Wilfrid Utz (BOC), Roman Dolhai (CloudBroker) and Dawid Szejnfeld (PSNC)