On 24 and 25 May Change2Twin invited all interested Digital Innovation Hubs to the certification training which entitles them to carry out the assessments in the upcoming open call. We were happy to see DIHs which were part of the programme already in the 2021 edition and we welcomed additional 17 new DIHs and thus enhanced Change2Twin geographical coverage.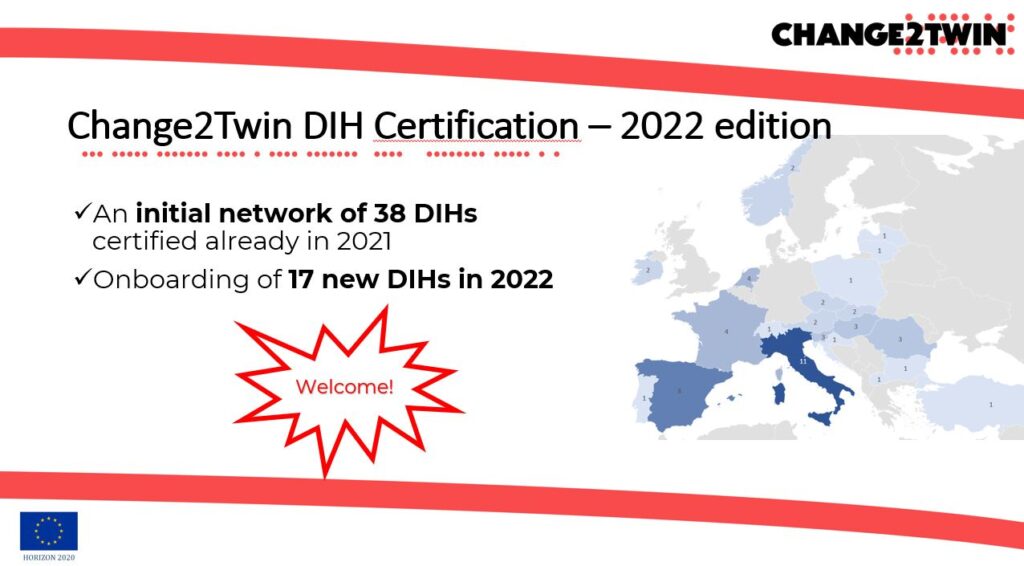 The 2-days training covered all aspects of the open call, which were covered by the speeches of Change2Twin consortium members:
Introduction of ChangeTwin and its funding schemes by Tor Dokken (SINTEF), the project coordinator
General framework of the 2nd Assessment Open Call, requirements for the applicants, legal and financial aspects by Anca Marin (FundingBox), the open call manager
Common understanding of digital twin in manufacturing by Jeroen Broekhuijsen (TNO), the technical manager of Change2Twin
Demonstration of digital twin created and deployed in Space Structures GmbH, one of Change2Twin pilot experiments – Jochen Haenisch (JOTNE) mentor of the experiment and Benjamin Braun CEO in Space Structures GmbH
The 7-steps method to create and deploy a digital twin by Michael Borth (ESI/TNO), member of the assessment team and co-author of the assessment tools
Assessment Tools for DIHs provided by Change2Twin including practical instructions how to use them – Michael Borth (ESI/TNO) and Laura van den Aarssen (TNO), members of the assessment team and authors of the assessment tools
Lessons learned from the 1st Assessment Open Call and recommendations for DIH from an experienced DIH – Marcela Alzin (TTTech Industrial), dissemination and communication manager Change2Twin and Thomas Gross from Linz Center of Mechatronics DIH who lead a successful assessment in the 2021 open call
Digital twin barriers and how to overcome them & enabling technologies for digital twins – Oliver Barrowclough (SINTEF), manager for digital twin enabling technologies in Change2Twin
The role and benefits of standards in digital twins by Jochen Haenisch (JOTNE), standardisation expert
Change2Twin technology and solution marketplace for DIH by Michal Kulczewski (PSNC), marketplace manager in Change2Twin
Next steps and to do's for certified DIH by Gladys Gallot (Images & Réseaux), DIH manager in Chagne2Twin
Thanks to all speakers and to all participating DIH, we are looking forward to cooperating with you!